Fruit farm and historic bed & breakfast
Indre Bjotveit Gard is a small fruit farm in the Hardanger region, surrounded by fruit trees, mountains and fjords.
We, Endre and Manuela Bjotveit, have been running the farm together since 2010. Endre took over the farm from his father in 2005. The farm has been in the family for many generations. We live together with our sons, Hans Gunnar (*2012) and Anders Elias (*2014).
Endre's parents, Tone and Gunnar Bjotveit, also live on the farm and help out where they can.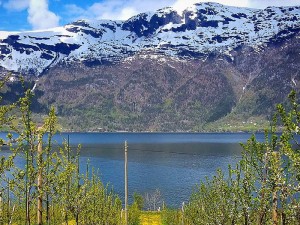 We have just over 2 ha of orchards. We have sweet cherries, plums, apples and pears. Scattered around the farm you also can find raspberries, gooseberries, red and black currants. Most of our fruit is delivered to fruit cooperative at Lofthus, but we also sell some along the road in our small self-service shop.
From our fruit we make jam and juice which is also for sale.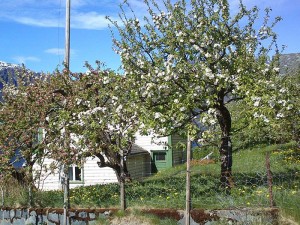 Our bees produce delicious honey every year. At spring time they are at home and help to pollinate our fruit trees. In the summer the bees are moved to Askøy, an island close to Bergen. There they collect honey from heather.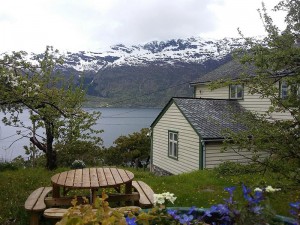 We also have a small flock of sheep – Norwegian "spælsau". In summer you will not see a lot of them because then they enjoy the freedom of grazing in the mountains. In spring and autumn they're in the fields around the farm.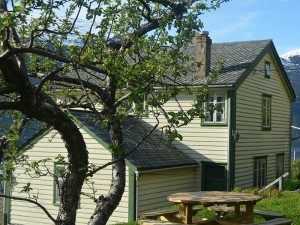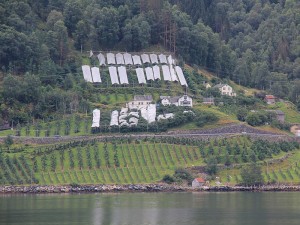 In our lovely guesthouse you can enjoy our farm. You come close to the history of our farm and the history of the Bjotveit Brothers art furniture factory which was located at Bjotveit from ca. 1930-1977. Taking a walk of our farm, you can even taste Hardanger. The taste of Hardanger and western Norway will also meet you at the breakfast table.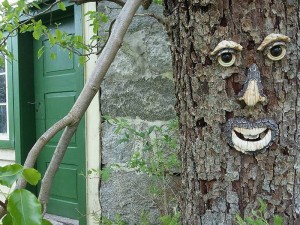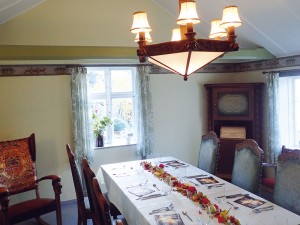 Our farm "Indre Bjotveit Gard" is located in the beautiful Hardanger region – the orchard of Norway.