Living room and kitchen
All rooms share the common rooms like the living room with a TV and the kitchen. The kitchen is fully equipped. During breakfast time the kitchen is closed to our guests, because we using it to prepare the meal. The rest of the day you can use it to prepare dinner or lunch for yourself. Every room has its own space in the fridge and a cupboard in the kitchen where you can store food.
The living room is divided into two zones so different groups can use the room at the same time. The furniture is made at the workshop of the Bjotveit Brothers art furniture factory.
The sofa, which is standing in the far end of the living room, was the first sofa made at the workshop. After the sofa was finished the carpenter Johannes Bjotveit found that it wasn't really comfortable. He has chosen a 90 degree angle for the back. That's why he decided to keep the sofa for himself.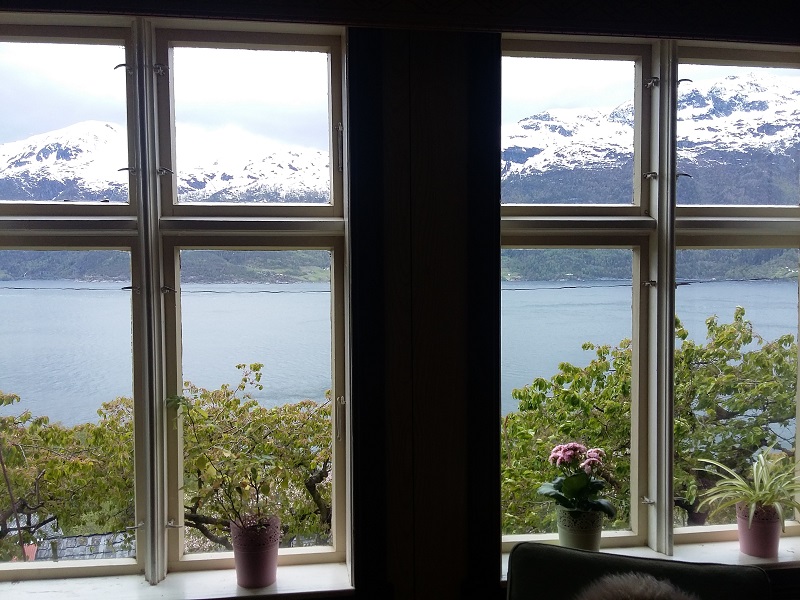 On the kitchen cupboards you find paintings by Kari Vivelid. Kari Vivelid (1899-1979) was a famous local artist. She lived at the mountain farm Vivelid at the Hardangervidda. One winter she stayed at Indre Bjotveit Gard. That's when she painted the kitchen and the dining room.
Our guests can use the washing machine and the dryer if we don't use them. Please ask before using.