Accommodation – Bed & Breakfast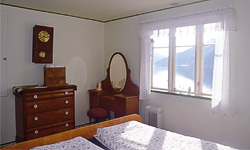 Fjord view 1 – room with a double bed and shared bathroom at the same floor (second floor)
Price NOK 970,-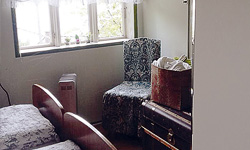 Fjord view 2 – room with a double bed and shared bathroom at the same floor (second floor)
Price NOK 920,-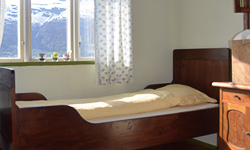 Fjord view 3 – room with two single beds (second floor) and shared bathroom (basement)
Price NOK 920,-
Garden view – room with two single beds (second floor) and shared bathroom (basement)
Price NOK 820,-
INDRE BJOTVEIT GARD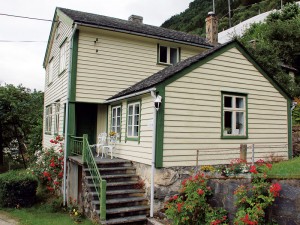 Fruit farm and historic bed & breakfast
Welcome to Indre Bjotveit Gard – a small fruit farm in the middle of the wonderful Hardanger region. Take break from your daily life, relax and rest for some days in our beautiful bed & breakfast.
Season 2018: Our bed & breakfast has open from 18. June until 19. August.
Our farm is located between Eidfjord (18 km) and Kinsarvik (12 km) beside the impressive Hardanger bridge.
Are you planning to follow the national tourist route Hardanger or cross Hardangervidda? Then our farm is a perfect stop for one or more nights.
Number of rooms: 4
Shared bathroom

excellent breakfast with our own and other regional products

garden

No smoking inside

No pets

Open 18.06.-19.08.2018

We speak English, Norwegian and German.

Plenty of hiking possibilities nearby like Trolltunga.
Thank you for a nice season with many nice guests. We have closed now for dropp-in-guests, but until 28th of september 2016 we still welcome guest. But you have to book at the latest 48 hours before arrival. Send a message 🙂
Do you want to enjoy the Hardanger region this year? Choose our lovely guesthouse for your holiday. If you stay at least four nights in a row at our place, we will give you the fourth night for free.

During the season you can buy sweet cherries, plums, apples and pears. From our berries and our fruit we also make jam and juice which you can buy. We wrap it as lovely presents if you like. We also have two varieties of honey.
Contact information

INDRE BJOTVEIT GARD
Endre and Manuela Bjotveit
Bjotveit Indre, 5780 Kinsarvik – Hardanger
Tlf: (+47) 53 66 18 30
Mobil: (+47) 40 21 66 11
E-post: [email protected]
Follow us on facebook.

---